I've made it. Here we are, the second week of December. It's Finals Week, stress is flying up and down, and many people are clinging to their sanity.
Let me say this folks: Star Wars Episode VIII: The Last Jedi comes out tomorrow night. I've quit all social media (except this blog) to avoid spoilers. I'm that serious about this film.
You think I've let the whole semester build up to get worried about Finals? Hell. No. I'm way more worried about Rey and Luke Skywalker than I am about my English Final tomorrow.
Here's the reality of the situation: I found out on Day 1 of this semester (the same day the Solar Eclipse beautifully saw totality over my campus) that The Last Jedi was on the same day as my final. I decided then that my grade better be as high as it can be so I can walk into that test knowing my lack of focus would be "ok."
Many people will probably look at my attitude and think, "Wow, you're a fool. How can you put aside a college course for a movie?"
And to them I say: I'm not. I've put my best efforts into this semester and the work I've done!
( I also say:)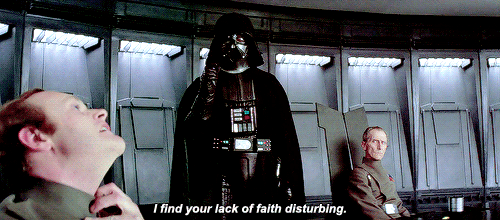 Considering I have one exam, I can look back at the work I've done this semester.
In my other English class, I was able to work with a team of editors and put together a Class Book. The book entails the necessity for adaptations of classic literature to survive in the modern era. It was a lot of fun to edit and work with Adobe's InDesign to put together a piece of art that has essays from classmates.
I also got to learn a lot about British Classic literature and their adaptations which is definitely knowledge I'll take forward. The active learning environment mixed with great content allowed for me to keep my sanity.
Another class I took was a Film and Culture class. In the class, I learned about how food can represent so much more than hunger satisfaction in film.
The class reiterated a lesson from Remus Lupin that I'll take to my grave:
Not only will eating make you feel better, but it can reignite memories from the past. Eating is a social construct that brings people together. The best silence in the world is when hungry people can sit with each other and just eat.
This class allowed for me to create my own film. It's a 40 minute film. The amount of time it would take to upload it to WordPress would be crazy.
I'm sorry I can't share it with you. But, I documented Sunday Family Dinners that my roommates and I would create and then serve to friends. It's an unusual event for college students, but I think it's a necessity for togetherness over a great meal.
Documenting these dinners and learning why they're important not only allowed for fun but it too allowed me to keep my sanity this semester.
I'd be crazy to not mention my journalism accolades.
This semester saw the beginning of my real-world journalism career. I got to work for the Columbia Missourian and become a beat writer for the University of Missouri volleyball team.
I wrote my first feature and wrote several game recaps. I even got to participate in a published round-table discussing the team's hopes in the NCAA Tournament.
Attached to the newspaper work, I was in a lecture that normalized the world of journalism to us newbies. Participating in discussions about journalistic ethics, sharing my experiences, and hearing the stories of others have all added to my journalism knowledge.
Being able to manage my time in the newsroom as well as talk about journalism, all added in to my ability to (barely) keep my sanity this semester.
The only class I've left is the English class I have to take an exam for on Star Wars Day. I learned plenty about American Literature from the Civil War until the Cold War.
Participating in this class allowed for me to extend my knowledge on American literature and the history of our country. It also assisted in my time management improvement this semester.
Now, all I have to do is briefly recall some Walt Whitman poems from the American Civil War and not confuse them with stolen battle station plans from the Galactic Civil War.
I trust myself to do between "alright" and "great" on the exam I have. If not, I won't suffer.
Want to know why? Because all semester, I've worked really hard to keep my sanity in all of my classes. I've done well in them and have produced great works.
Each class contained knowledge that I know I'll bring forward into the rest of my life.
But for now, I listen to Master Yoda: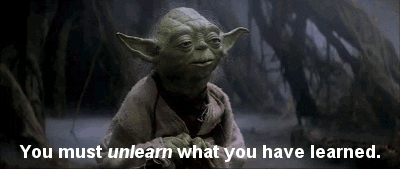 Briefly, I will unlearn what I've learned behind the desk this semester and focus on Star Wars. The knowledge I've gained will come back to me but now, it's time to focus on what really allowed me to keep my sanity all semester.
~DS