Hey there. I haven't blogged in a while, which clearly means I haven't vlogged on YouTube in a while because I post here every single time I make a video.
Which sort of stinks because I like doing YouTube videos, however, this semester and this year overall is about to be my hardest year of college yet. Being that it's my last, it adds a sort of pressure to give up a lot of my free time to succeed.
I'm not a shut-in kind of guy. But I am the type of guy who's not concerned with getting shitfaced every night of the week just because I'm 21 now. I've noticed this since I've been back to school.
My friends and I are all seniors and we're all 21 now. Which means, everybody all of a sudden wants to do stuff and most of the time "stuff" involves alcohol. I like doing stuff, but I feel like I've never been this jammed in social traffic.
It's nice to not be jammed in social traffic. It's nice to steal away minutes and hours to just sit at my computer and either read or write. Regardless of wanting to go out or wanting to stay inside at my computer working, it seems I'll need to spend more of my time at my computer reading or writing for school anyway.
I know the task at hand for me at the moment is to graduate on time. To graduate on time, I need to do anything and everything that's required of me to succeed in all of my classes. Therefore, the keyboard is my friend more than my camera.
Unfortunately now, I have to be much more active on this blog writing and not vlogging or even podcasting. I just need to have my personal priorities straight.
It really is a bummer for me though because, this year is also one of the biggest years in gaming and film. There're so many titles coming out that I'm beyond excited for.
For films, there's Fantastic Beasts: The Crimes of Grindelwald, The Irishman, Once Upon a Time in Hollywood, Captain Marvel and Avengers 4.
This point stinks because podcasting for The Creatively Challenged Podcast has hit a standstill as it is. But the work that this year requires of me disallows a weekly film review podcast.
For gaming, it's Marvel's Spider-Man, Red Dead Redemption II, Spyro: The Reignited Trilogy, Fortnite Seasons 6 & 7 all on PS4, and Super Smash Bros. Ultimate along with Mario Party Switch all on Nintendo Switch.
No, I didn't forget to mention Kingdom Hearts III.
Kingdom Hearts III is my most anticipated video game ever. I've been waiting for this game to come out for such a long time. It's been 5 years in development time since Square Enix and Disney first announced the game. But it's also been 12 years since the last numbered Kingdom Hearts title, the glorious Kingdom Hearts II.
So, naturally: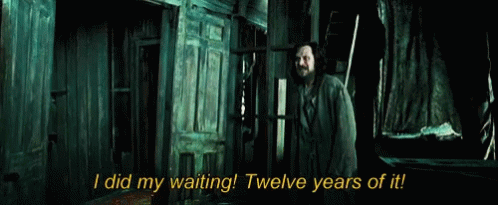 I've literally never anticipated or waited for something for so long. Almost 2/3 of my life so far has come waiting for this game and it comes out on 1/29/19.
How will I keep my focus when that comes out? I have no idea. That's a then problem. My now problem is that I'll be swamped with work and the whole reason I started my YouTube page was to talk about gaming.
When my most anticipated game ever alongside other great titles are releasing and I'm not sure if I'll have time to vlog about them, that bums me out.
I don't want to make it seem like this blog post is all about me being bummed out, because it's not.
I'm really excited to get this challenge started. I want to push myself to the limit because I know that the workload for the classroom this year will require that of me.
I apologize for the lack of content on my other channels and mediums. I hope everyone understands the reason behind my sporadic availability on those channels and mediums.
Now, I'll end this blog with a small anecdote within this anecdote. I'll call it Anecdoteception.
Anyway, there was this guy walking by me on the street the other night wearing Chunk's shirt from The Goonies. It was literally Chunk's shirt, same design and everything. I would not be unsure about something like this.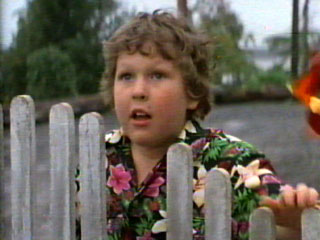 Naturally, I yell at this guy "DO THE TRUFFLE SHUFFLE!" I did not find this inappropriate at all. You can't just go out in that shirt and not expect anyone to say that.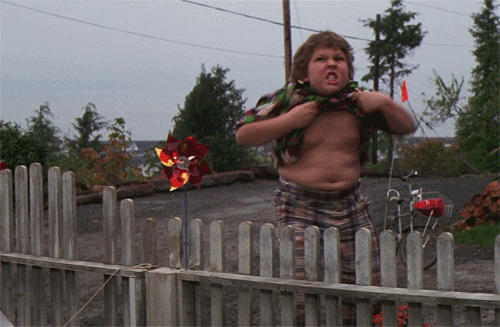 The guy just looked at me funny and kept walking. I forgot to mention also that I was standing in the line to get into a bar, at night. Columbia, Mo.'s finest typically posts-up outside the bars on Saturday nights like these.
An officer glared at me, after I yelled this and I felt a little scared. That officer and her partner began kind of walking around the entrance of the bar I was going into.
This completely threw off my night. Any want to go have fun and drink with my friends at the bar was gone because of the cops looking at me funny for referencing an '80s film.
Could you imagine if life was like this though? I'm pissed that it threw off my night because there was literally nothing they could've done. You can't get arrested or ticketed for quoting '80s films.
"We've got this guy on quoting St. Elmo's Fire, that's 6-8 years in prison."
Well, I think that's a good place to wrap up. If you take anything away from this blog it's this: if you go out wearing Chunk's shirt from The Goonies, it's socially acceptable to have a certain phrase yelled at you.
Welcome back to Average Yet Amazing Adventures, the blog.
~DS